Kuolemanpalvelus
Kuolemanpalvelus (Ceremony of Death) is the third studio album by Sotajumala. It was released on May 25th 2010. On its release week Kuolemanpalvelus entered Finnish album sales charts at position six.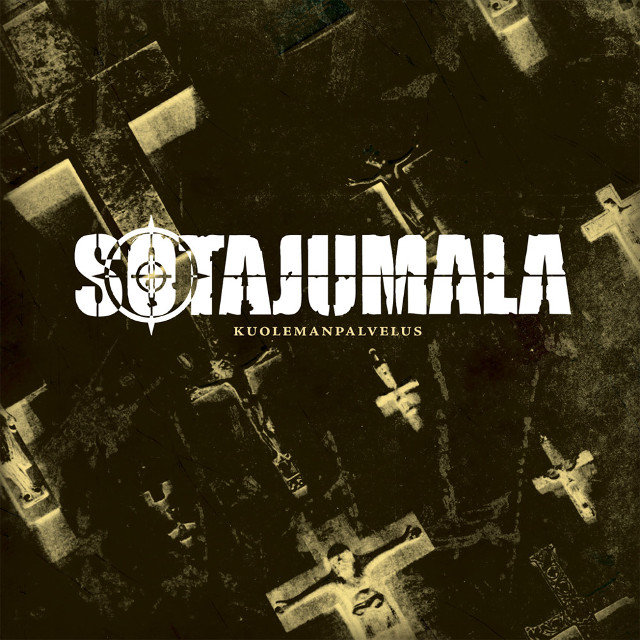 Track listing
Syvyydessä (In the Abyss)
Paratiisin kutsu (The Call of Paradise)
Kuolleet, toinen jae (The Dead, Second Verse)
Sokeus (Blindness)
Sinun virtesi (Your Hymn)
Toinen tuleminen (The Second Coming)
Luut sinusta muistuttaen (Bones Reminding Us of You)
Kuolemanpalvelus (Ceremony of Death)
Line-up
Mynni Luukkainen: vocals / Kosti Orbinski: guitar / Pete Lapio: guitar / Tomi Otsala: bass, backing vocals / Timo Häkkinen: drums.
Production notes
Engineering: Tuomas Kokko / Mixing: Sami Koivisto / Mastering: Svante Forsbäck / Artwork: Kalle Pyyhtinen / Photos: Kalle Björklid / Video: Matti Pekkanen and Mikko Soukkala.
Recorded at Studio Audio, Jyväskylä, Finland and Basement Alliance, Vaajakoski, Finland between January 11th and 31st 2010. Mixed at Biotech Audio Solutions, Vaasa, Finland between February 10th and 24th 2010. Mastered at Chartmakers, Helsinki, Finland on February 25th 2010.
Video
Paratiisin kutsu