Raunioissa is out!
2015 / 01 / 16
Today we released our fourth album, Raunioissa (In the Ruins). We're very proud of this album and want as many people as possible to hear it. That's why we decided to do something special: we're both selling it and giving it away for free. Head to the download page to read more and get your copy.
Raunioissa out on January 16th 2015
2014 / 12 / 01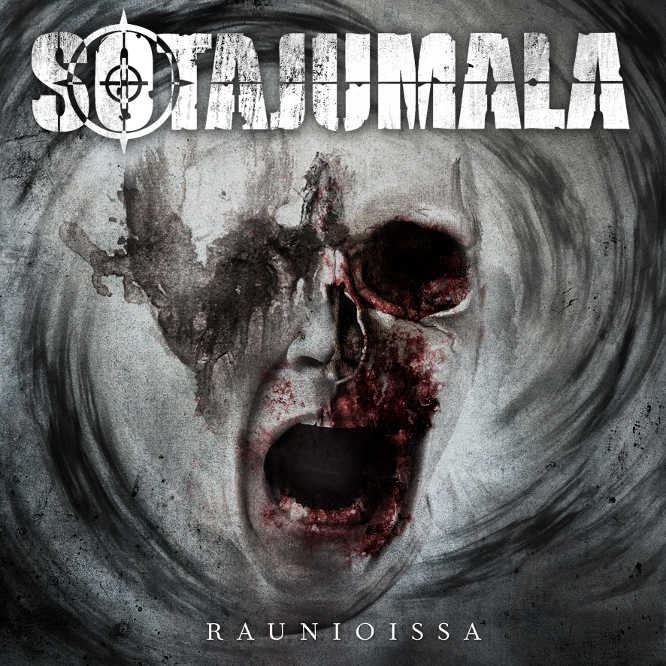 Our fourth album is called Raunioissa (In the Ruins) and will be released on January 16th 2015. Eight songs and roughly 40 minutes of pure Sotajumala. The production was once again handled by Sami Koivisto and artwork was done by another longtime friend, Kalle Pyyhtinen.
Your can pre-order the album from Record Shop X or digitally from Bandcamp. The album is self-released. The CD version will have international distribution and we'll also make the album available digitally through selected services. A limited edition vinyl might come out next spring depending on the demand. Studio video for the song Sinä et ole yhtään mitään is now available on Record Shop X's website.
Saattajat (The Vessels)
Sinä et ole yhtään mitään (You Are Less Than Nothing)
Uhrina sairaan (The Prey of a Sick Mind)
Veljen viha (A Brother's Wrath)
Kuolemanmarssi (Death March)
Elävänä omassa haudassaan (Alive in a Grave)
Riimit lihan säälistä (Rhymes of the Pity for Flesh)
Päivä jolloin aurinko sammui (The Day the Sun Perished)
Club shows and album update
2014 / 11 / 25
The Finnish club tour for the new album consists of seven citites so far, with one or two possible additions to be announced later on. Next week we will release a video, start taking pre-orders, announce the release date and reveal the album name and cover. Here are all the confirmed shows so far.
2015/02/13 Jyväskylä, Lutakko + Unborn Generation
2015/02/26 Kuopio, Henry's Pub + End Time Design
2015/02/27 Joensuu, Kerubi w/ Moonsorrow
2015/03/06 Oulu, Hevimesta + Ravage Machinery
2015/03/07 Rovaniemi, Grande + Ravage Machinery
2015/03/13 Turku, Klubi
2015/03/14 Helsinki, On the Rocks
2015/05/15-16 Hyvinkää, Steelfest Open Air
2015/06/18-20 Kauhajoki, Nummirock Festival
Album number four
2014 / 07 / 01
We've been quiet for a fairly long time, but we can finally say that there's light at the end of the tunnel. We've been working on our fourth album off and on for the last 3+ years and while it's not quite ready just yet, we felt that an update was due.
It's been a long and difficult process, but we decided early on that we would not rush this album. It'll be done when we say it's done, not a day sooner. We realize that this has not been the best career move for us, but this band has never been a career for us either. We've simply been writing what we've felt like when we've felt like it. There have been months of hiatus followed by intense writing followed by more hiatus. Nothing has been forced. Love us or hate us for it, this is how we work.
Whereas we've typically entered studio with just enough material for an album, this time we just kept writing and ended up with enough songs for a double album. Over the past month we've went through the material and picked the strongest songs for the album. We're obviously biased, but this is going to be one crushing album! It's a natural progression and rest assured, it still sounds like Sotajumala.
We will start recording on September 15th with Sami Koivisto and everything should be ready in November. Seeing as we don't have a label yet, it's hard to give an exact release date, but with or without a label, we're shooting for an early 2015 release.